Welcome to the world of "Pet Pet Pinto".
A world where you decide how to customize and take care of your own pet pony.
A fan made game where storytelling comes to life.
Create your pet pony character, bargain for items(even prey/Pets),
Discover maps, and play with online friends.
Let your story begin.
Play Pet-Pet Pinto today
.::Screenies::.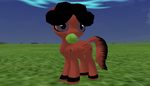 Available with 2 downloads.
Players may choose between having outlines or without outlines.
Our Forum: http://pet-pet-pinto.boards.net/