First topic message reminder :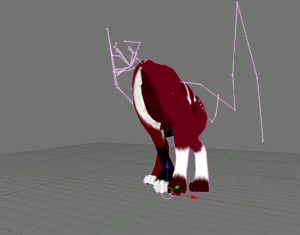 --
Download
--
Contents:
Body2.mesh
Body2.skeleton - Mesh and Skeleton for Slycan's Skinny Body, with the original IT run cycle
Body3.mesh
Body3.skeleton - Mesh and Skeleton for Skinny Body, with Kanu's run cycle
--
Instructions:
1. Download it.
2. If you have a server with the ability to have multiple bodies, then copy the meshes and skeletons to your models folder.
If not, pick one, and replace your old body with it.
NOTE: If you choose to use the body with Kanu's run cycle, you MUST have the other files that go with it. Otherwise your body will be doing one animation, with your head/tail/whatever doing another. Get those animations from here.
3. The material names are as follows for Body2:
SkinnyBodyMatR
SkinnyBodyMatL
For Body3:
SkinnyBodyNewRunMatR
SkinnyBodyNewRunMatL
so some material editing might be needed.
--
Credits:
Slycan for the body
Kanu for the run animation
--
Before anyone asks, yes, it still uses the same UV, the FH one.
Enjoy.